Information on the Name Cadoc
The name Cadoc is a traditional Welsh boy's name with an historic past as you are about to discover.
Another spelling of the name is "Cadog."
Meaning of Cadoc
Cadoc comes from the Welsh word "cad" and means "battle" or "battle glory."
Popularity of Cadoc
Cadoc is not a very common name. According to the Office for National Statistics, it has never been in the top 100 baby names in the United Kingdom.
Famous People Named Cadoc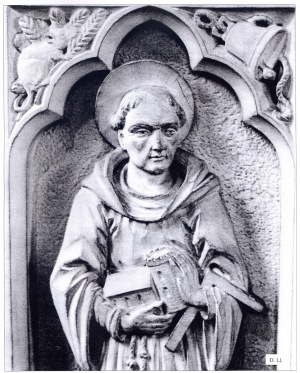 In King Arthur's legends, Cadoc is one of the keepers of the Holy Grail. In other Arthurian stories, a man named Cadoc helps some of King Arthur's enemies.
Saint Cadoc is the patron saint of deafness, glandular disorders, and famine victims. He was martyred in 580 A.D. His feast day is 21 September.
Saint Cadoc's is a Catholic church in Cardiff.
Cadoc is Eragon's first horse in the Inheritance Cycle book series by Christopher Paolini. It is also the name of Eragon's grandfather.
Cadoc Reen is a character in the game Kingdoms of Amular: Reckoning.
Useful Resources
Discover the meaning and popularity of other Welsh boys' names on our website