As with any language, Welsh is no different as baby names come into and out of fashion.
Here is the list of the top 10 most popular Welsh boys' names taken from the latest government statistics (from 2013) on baby names in Wales (no doubt you know someone with one of these popular names):
Names from 2012
Names from 2011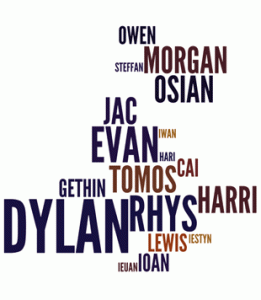 See our comprehensive list of the most common Welsh Boys names in Wales today  where you'll discover the meaning/description of all the names in the 'Top 10 most Popular Welsh boys' names list.
If you are looking at the list for inspiration for a baby's name see our interactive names tool that will help to choosing a Welsh names for boys. Also download our eBook "The Essential Baby Checklist" to help you with parenthood.
Let us know what Welsh boys names are common in your area. Post your comments below.