Discover the History and Meaning of Welsh Names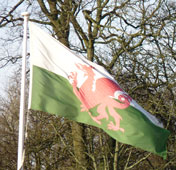 This website will help you discover the source and history of Welsh names and see our comprehensive list which is ideal if you're looking for a name for your baby boy or girl.
Welsh names are more popular today than they've been over the last 50 or 60 decades mainly in correlation with the rise in popularity of the Welsh language itself outside its heartlands in the North and West of Wales.
The origins of Welsh names dates back even before the Welsh language itself was established in the 6th century to the world of religion and Celtic folklore. Many names can be found in early Welsh literature like the Mabinogion where names such as Rhiannon and Dylan were documented. Some names have a religious influence for example Dewi who was the patron saint of Wales. Place names with Llan something mean the parish of a religious figure in that region.  So saint Teilo had his name linked to the town of Llandeilo.
From the following examples you can see Welsh towns, villages, rivers, mountains have kept a good record of Welsh names over the years:
Dulais – from the place Pontarddulais
Dyfi – from the river Aberdyfi.
Idris – the mountain Cader Idris
Example of names taken directly from the Welsh language:
Mai – May in Welsh
Haf – Meaning summer in Welsh
Bryn – meaning a hill in Welsh
Example of Welsh names derived from other languages:
Ieuan – from Iohannes
Jac – from the English name Jack
Pedr – from Peter
Looking for a List of Welsh Names
Our two websites www.welshgirlsnames.co.uk and www.welshboysnames.co.uk are dedicated in providing you with accurate and comprehensive lists of Welsh girl and boys names.
Popular Welsh boy's names include:
See more Welsh Names for Boys.
Popular Welsh girl's names include:
See more Welsh Names for Girls